Water Carrier
[ For I am water now ]
An art project in various European cities with the underlying thought that we are water. Central activity in Braga Portugal is an art performance based on a tea ritual. Parallel event is an exhibition depicting a flow of drawings, prints and videos and an installation in the Museum Nogueira da Silva in Braga 2014.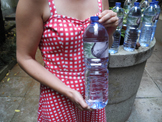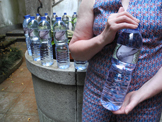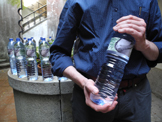 A tea ritual as an utopic field of democracy
We redefine the tea ritual on an artistic way as a philosophical and artistical meeting place, a resonating field of visual poetry and togetherness in a "politics of the heart', incorporating the utopic desire to a harmonious living together, an unconditional engagement in a field without distances, nor hierarchy. It is the echo of a humane democracy that is lost in our world.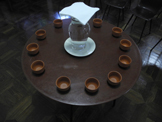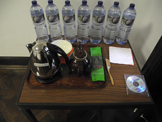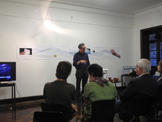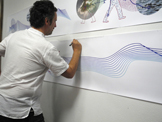 The tea ceremony is multidisciplinary. Conversations, sound, soundscapes, smell, gestures are integrated. Parallel events are a series of performances and talks based on the topic and an exhibition with a flux of drawings, prints and the video-performances "We wish we were like water" (Braga, Museu Biscainhos 2010), Writing in water (Venice Biennale 2007) and Liquid islands (Venice Biennale 2011) next to the video-poems "Antarctica" (Brasilia, 1a Feira Intercional do Livro / Museu Nacional) connected