Agenda
2O22 > >

International Walking Arts Encounters/Conference in Catalonia
Dear all, In the run up to the International Walking Arts Encounters/Conference in Catalonia next week we wanted to touch base with you, as a participant or supporter of one of our earlier Made of Walking encounters. , Made of Walking/the Milena principle and walk · listen · create are united, together with many local partners and universities in Catalonia for this new walking encounters. walk · listen · create curates an online program and a program of sound walks in the wake of the encounters.
Joining forces with Made of Walking, walk · listen · create is now a community of nearly 3500 registered users in our online home for walking artists, crowdsourced with the actions, posts, news and events of nearly 1000 contributing walking artists and researchers.
Check out our ever growing website with contributions and contributors from China to India, from Australia to Malaysia, from Egypt to Senegal, from Colombia to Argentina, from Mexico to Canada, from Ukraine and Russia, from Finland to Spain, making walk · listen · create vibrant and relevant.
As a community of walking artists and researchers we would love to welcome you to our online home, if not the case yet. Please register with a biography and profile here . This will allow us as well to feature you and your activities on our site.
On our website you find a page dedicated to the Catalonian Walking Arts Encounters, which already includes the walkshops and a series of audio walks and audio papers, made for the Catalonia Encounters, and to be listened to during walking wherever you are in the world.
Don't miss out on our bi-weekly walk · listen · café's, our online meeting spaces. We start with a a live walk · listen · café on July 5th at the conference venue in Girona, where we hope to see you again, if not in person, online.
We continue online with a summer series of walk · listen · café's around the globe, complementing the encounters, with speakers from India (July 19th), Spain (August 2nd), Colombia and Brazil (August 16th), Ukraine (August 30th), and more weekly online gatherings/talks till the end of September with more walking artists and researchers from all over the world.
This Tuesday at 17h30 we are talking live at the conference venue in Girona with walking writers Ann de Forest and Nathaniel Popkin joined online by writers Justin Coffin, Kabria Rogers, and Kalela Williams from Philadelphia. Remote participants can reserve their free ticket here.
Looking forward to meeting you again during this long summer of walking!
All the best,
Geert Geert Vermeire
Made of Walking/the Milena principle
walk · listen · create
International Encounters Walking Arts and Relational Geographies - Catalonia 2022

See more about the projects in 2021:
Walking as a Question
International Walking Encounters/Conference
Sunday July 4th to Sunday July 11th 2021, Prespa, Greece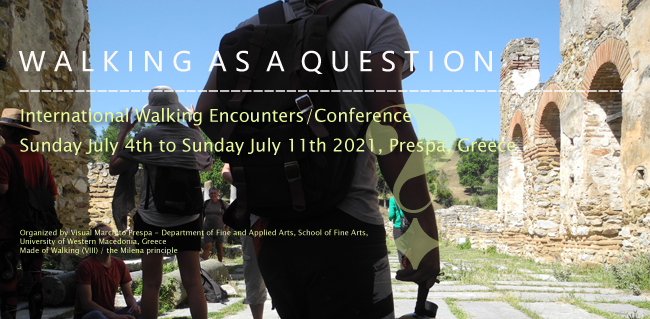 What questions does walking pose? What questions can walking be used to explore? Who walks? Who chooses to walk? Who is forced to walk? Who can walk? Who cannot?

Open call for participation in Prespa or on distance
Open call for hubs, individuals and collectives
for papers, audio papers, walkshops or other creative proposals.
All media and formats are welcomed.

Organized by Visual March to Prespa - Department of Fine and Applied Arts, School of Fine Arts, University of Western Macedonia, Greece
Made of Walking (VIII) / the Milena principle

Full open call:
https://tinyurl.com/Prespes2021
See pdf Open Call Walking As A Question > > >
Walking as a question
Prespa (Greece), 4 - 11 July 2021
Made of Walking (VIII)
Visual March to Prespa  
Department of Fine and Applied Arts, School of Fine  Arts,  University of Western Macedonia, Greece

Made of Walking (VI) Publication
International Walking Encounters/Conference 2019 catalogue.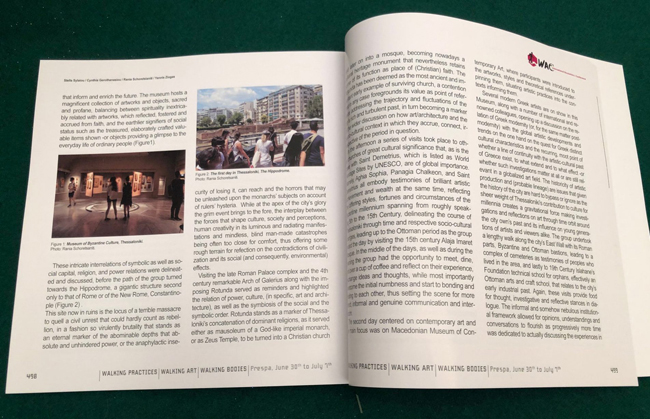 We're happy to announce the book with all actions and papers of the Walking Arts Encounters/Conference (WAC) 2019 is now available in a printed and a digital format. The publication is in full color, with hundreds of photographs, hundreds of written contributions from all over the world, and 567 pages. The image essays and articles are centered around the topics of Walking Narratives, Crossing Borders, Walking and Place, the Fine Arts of Walking, Exploring walking, Long Journeys, Nature and the Anthropocene, Walking as a Political Narrative, Pedagogies of Walking. Just by its volume and its global scope it is already a referential work for everybody interested in Walking Arts in the 21st century. Editors of the book are Yannis Ziogas and Geert Vermeire, in a design of Aspasia Voudouri. The digital version of the book can be acquired for a recommended donation of 20 euros. The printed book is available here for 50 euros + shipping.

The Meeting of the Waters | Locative Media Oceania 18 September to 4 October 2021
This 2.5 week virtual program is a collaboration between Treecreate, Fred Adam (GPSMuseum) and Geert Vermeire (Made of Walking/the Milena principle) hosted by the University of Canberra
It is designed as a creative response to the themes of water, connection and climate change to explore how locative media can be used to understand these issues, in a collaborative approach engaging science and local knowledge.
The program gives attention to experiential and horizontal learning through the creation of location-based content in interdisciplinary teams, drawing from collaborative practices and alternative forms of (outdoors) education.
It builds on the very successful Locative Media Summer School hosted by King's College London in collaboration with Supercluster in July 2020.
Participants need to be available between 18 Sept - 4 Oct, follow the organised online activities for around two hours a day, as well as dedicate about one hour a day to group activity (self-organised). Parts of the program are pre-recorded and involve self-study. The Meeting of the Waters | Locative Media Oceania is offered free of charge. We can accept 36 participants (6 groups of 6). Practitioners from all disciplines are welcome to apply. No technological background or special knowledge is required and creatives and researchers, including students, from non-technological fields are encouraged to apply. We expect to receive many applications, so the participants will be selected based on affinity with the topics and interdisciplinarity.
To be announced in January 2021 on https://supercluster.eu/

Walking Arts Initiatives network 2021.
a network between Guimaraes (Walking Body/UMinho), Catalonia (Nau Coclea - Clara Gari, Herman Bashiron University of Barcelona), Prespes (University of Western Macedonia, Yannis Ziogas), walk listen create & Made of Walking/the Milena principle (Geert Vermeire).
[ Mapping our working space ]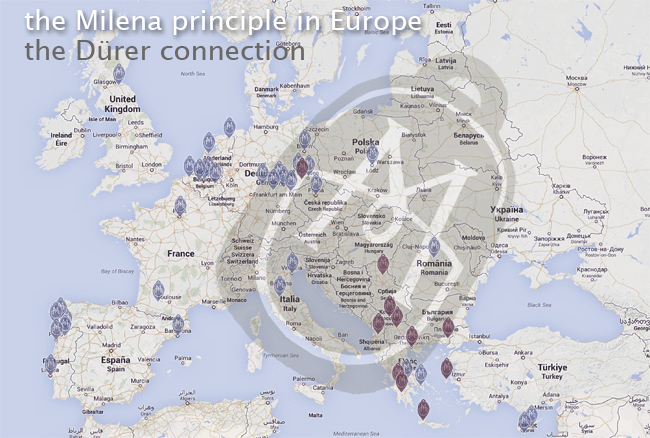 Amsterdam - Antwerp - Athens -Barcelona - Belgrado - Berlin - Beveren - Braga - Brasilia - Bruges - Chania - Chemnitz - Chios - Compostella - Delphi - Dimitsana - Dresden - Edinburgh - Essen - Florence - Ghent - Guimaraes - Jahnishausen - Kassel - La Romieu - Leipzig - Limassol - Lisbon - Lodz - Ljubljana - Naumburg - Neo Chorio - New York - Nicosia - Nieuwolda - Ostend - Paris - Patras - Porto - Prague - Prespes - Prishtina - Santiago de Compostela - Sint-Niklaas - Skopje - Soufi - Thessaloniki - Tinos - Tirana - Tirgu Mures - Tongeren - Venice - Vigo - Weimar