Agenda
2O18 > >

E X H I B I T I O N S :
[Urban Emptiness] Silence, Narrative and the Intimacy of the City ⋈ Académie Royale des Beaux-Arts Brussels 2018.

I N T E R N A T I O N A L - M E E T I N G S :
[Made of walking (V)] [International meeting walking artists]  Akamas peninsula Cyprus 29.06 > 08.07.2018.

I N D E P E N D E D . A R T - F A I R S :
[Platforms Projects] Athens Greece. Curated by Artemis Potamianou (Moma NY & Tate London).17.05>20.05.2018.

S C H O O L - P R O J E C T S :
[Letters to a Tree] educational project De Toren School Melsele Beveren Belgium 2018.
[Slow walking / silent walking] exercises with students of the Royal Academy of Fine Arts in Brussels 2017/2018.

S O U N D S C A P E :
[En balade avec Rimbô] media walk & sound compositions ⋈ La Romieu France April 2017/2018.

M E E T I N G S :
[Table Of Meetings] the Milena principle meeting 05.02.2018.

[Made of Walking (IV) 2018]
Neon Chorio [Akamas Peninsula Cyprus] 29.06 > 08.07.2018.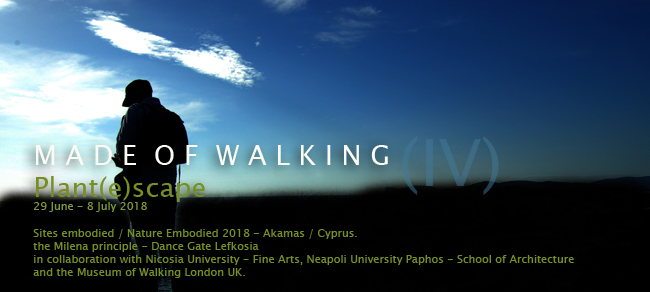 Made of Walking IV 
29 June - 8 July 2018
Sites embodied / Nature Embodied 2018 - Akamas / Cyprus 
the Milena principle - Dance Gate Lefkosia in collaboration with Nicosia University - Fine Arts, Neapoli University Paphos - School of Architecture and the Museum of Walking London. 
Reserve the dates!

Pre-announcement / in preparation: 
Sites embodied / Nature Embodied 2018 is a continuation of the project Sites Embodied Cyprus during Pafos2017, focusing this year on the villages of Neon Chorio and Smigies in the Akamas Peninsula, inviting Made of Walking / Plant(e)scape, in a collaboration with University of Nicosia / Fine Arts and Neapoli University Pafos / School of Architecture. 

Theme of Made of Walking this year is Plant(e)scape, relating to human motion and emotion in a plenary botanical background, and combining walking as a creative instrument with two emergent sciences: Spaziergangwissenschaft (promenadology) and Critical Plant Studies (Vegetal Philosophy: Plant-Thinking). Promenadology is a "tool" to explore our everyday living environment, as well as for delivery of content and knowledge, in combination with Critical Plant Studies, considering the plants as living entities with their own consciousness, as thinking, sentient beings, not mere objects to be studied and classified; they are also agents in the production of meaning. Following the logic of a symbiotic being in the world, (shared by humans, animals and plants), where the anthropomorphic centrality is lost, we aim to recover a vegetal point of view and creating new ecological meanings that may deepen symbolic and aesthetic levels. 

The gathering will feature live performance works, workshops, lectures, round tables with established and emerging performance artists, walking artists and with researchers. 

Live performances by the participating artists and students: to be held in landscape / countryside throughout the event with the participation of the general public/local residents. 
Workshops by the artists that will lead to live performances: for general public and local residents along workshops for students of various disciplines of the institutes involved
Public talks, presentations and conferences, open to anyone interested. 
An open an international digital platform during and after the event, extending the gathering on a worldwide level, including streaming and live podcasts of the actions and talks to the broad network of Made of Walking and Talking Walking / Museum of Walking. 
Concept Plant(e)scape by Simona Vermeire. 
Open call for participants will be published in February.

[Letters to a Tree] De Toren School Melsele Beveren Belgium 26.03>20.05.2018.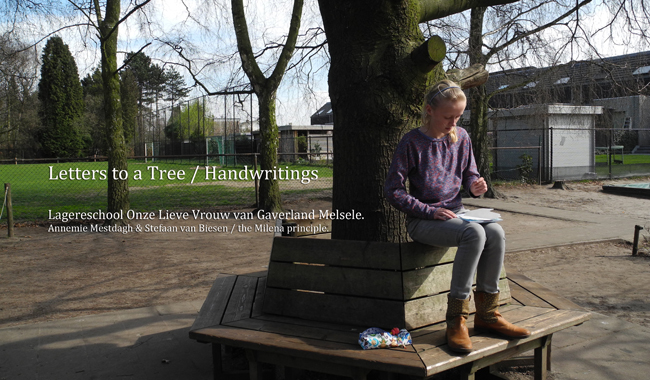 An educational art project / workshops for youngsters [the age of 10] at De Toren school Melsele Beveren Belgium. The artistic theme's of: 'Letters to a tree', 'the Library of Walks' are an inspiration for a project where nature, ecology, books, reading, writing, drawing, walking, is used as an instrument of knowledge and reflection.

[Platforms Projects] Independed Art Fair Athens Greece. 17.05>20.05. 2018.
Curator Artemis Potamianou [Tate London - MOMA NY].

Curator Artemis Potamianou (MOMA NY & Tate London), who is currently based in Athens, considers the Milena principle as one of the 49 most important independent art platforms from all over the world, distinguishing themselves by working on unconventional ways and by establishing unexpected and influential debates on art. Based on the "unity is strength" principle, the platforms have secured their own place on the international art arena without antagonizing the environment they are called upon to serve.
Curator Artemis Potamianou and the selection committee of Art Athina Platforms project 2015 selected the Milena principle as one of the 40 representative art platforms worldwide to showcase their work and collaborations in Lisbon and Athens.
the Milena principle presents together with befriended collectives and organisations in Lisbon and Athens a collaborative sound-and visual installation, demonstrating the effect towards other cities, through a network of artistic interventions with remote users from other cities. The juxtaposition of artistic interventions and experiences of different urban environments suggesting the acknowledgement of coherence emphasized in the practices of everyday life-urban rituals, rather than the contrast implied by the geographical and cultural differences.
[ Mapping our working space ]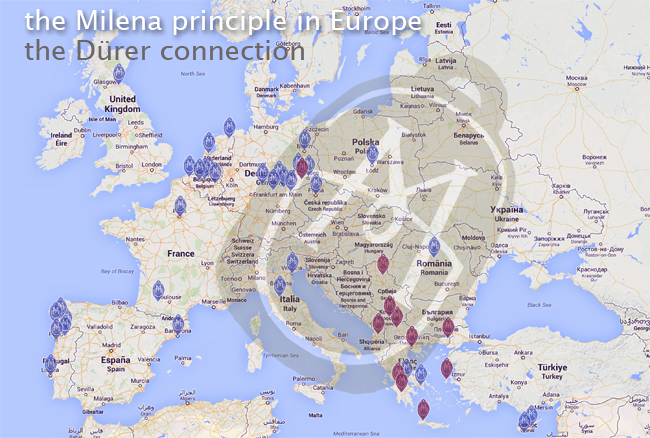 Amsterdam - Antwerp - Athens -Barcelona - Belgrado - Berlin - Beveren - Braga - Brasilia - Bruges - Chania - Chemnitz - Chios - Compostella - Delphi - Dimitsana - Dresden - Edinburgh - Essen - Florence - Ghent - Guimaraes - Jahnishausen - Kassel - La Romieu - Leipzig - Limassol - Lisbon - Lodz - Ljubljana - Naumburg - Nicosia - Nieuwolda - Paris - Patras - Porto - Prague - Prishtina - Santiago de Compostela - Sint-Niklaas - Skopje - Soufi - Thessaloniki - Tirana - Tirgu Mures - Tongeren - Venice - Vigo - Weimar