the Milena principle
sensitive thinking
Read more about us [ Nederlands - Deutsch - English ]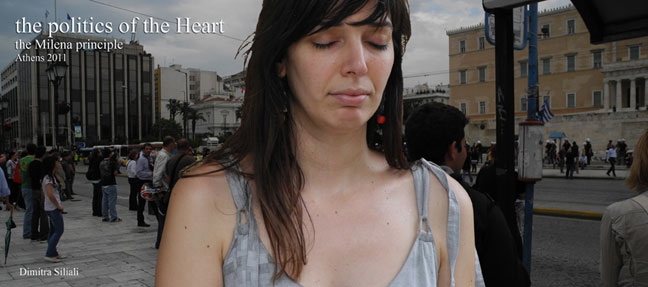 the Milena principle is a 'think tank' with a global vision in which people from several European countries come together. The group is made up of artists and experts from various domains and disciplines including science, alternative health therapies, literature, art history, sound art and music, architecture, technology and philosophy .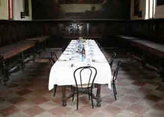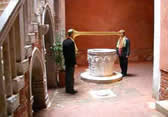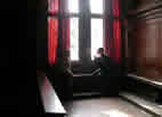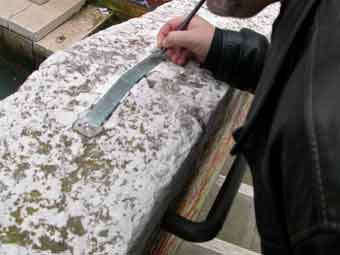 We work as an European organisation and we realized art events in countries all over Europe. Within the projects of the Milena principle various international artists, writers, scientists come together and cooperate, create with a multi- and interdisciplinary attitude and reflect about the border crossing aspects of culture, art, science, ecology and health. One of the important aspects of the Milena principle members is their individual research in various fields such as art, philosophy and science.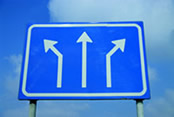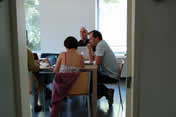 Our events are processes, laboratories of a feeling thinking in which instruments of art are as well instruments of science and knowledge. It are human fields, meeting places in an intimate atmosphere open to participation of the public and community. A humanist attitudes merges as well with an artistic one. We refer the nomadic aspect of renaissance artists, who did not only travel with their work through Europe but also made connections with all the places they visited. Renaissance artists, scientists and philosophers found each other via their common interest for a new philosophy. Through exchanges of ideas with artist and friends, whom they visited during their continuious journeys, they created a network of solidarity and affinity. Our art projects have an explicit utopian and human dimension.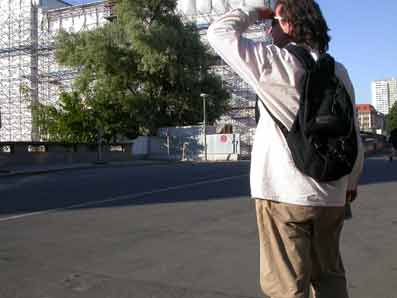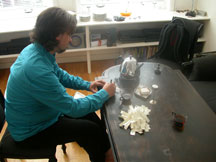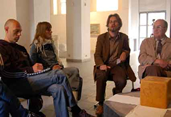 [ The Path of Dürer ] the Dürer Connection
Albrecht Dürer [1471-1528] visited Antwerp in 1520: the Milena principle wants to actualize this old tradition. These great renaissance persons found each other via their common interest and thinking. Through their travels they moved boundaries, they travelled with and via ideas. Through exchanges of ideas with artist friends, whom they visited during these long journeys, they created a network of solidarity and affinity.
Art a superior form of knowledge
The vision of the body as an instrument of art and knowledge and guidelines as serenity, silence, intimacy, enchantment, inspiration are defining our way of working.

[ A network of meetings ]
The Milena principle has already organised international events during the 'Friedrich Nietzsche Seminar' in Weimar [Germany 2005], performances in the Dom of Naumburg [Germany 2005], the park of Bellevue and in the Grunewald in Berlin [Germany 2006], S.M.A.K. [Museum of contemporary Art] in Ghent Belgium 2004, the Museo Goldoni in Venice [Italy 2005], in Amsterdam [the Netherlands 2006], at the house of Rea Thönges Stringaris during Documenta 12, Kassel Germany 2007, 'The Marcilio Ficino connection' Firenze Italy 2009, Portugal Braga Porto 2009-2010: Clube Literario, Velha-a-Branca, Nogueira da Silva Museum, Biscainhos Museum, Show Me Gallery, Pedroremy Gallery, Serralves Foundation, 'the Bolyai Art Festival' in Transylvania, [Romania 2010]. (no) Tour S.M.A.K. [Ghent Belgium 2011]. Fotofestival 'Out of Space' [Lodz Art centre] Lodz Poland 2011, 'About' Cultural Centre, ASFA, Goethe-Institut, [Delphi - Athens Greece 2011], 'Academia Dantesca Jahnishausen', Jahnishausen Germany 2011, 'The garden of E-' [E Culture Fair] Hasselt Belgium 2011, ECCO [the Brasilian Centre for Contemporary Art] Brasilia Brazil 2011, 'Aberto Brasilia', 'Anatomia da Escrita' [National Museum of Brasilia] Brasilia Brazil 2011-2012, 'Ilhas do corpo' [National Library of Brasilia] Brasilia Brazil 2012, '360º travelling spaces' [Bienal do Livro e da Leitura] Brasilia Brazil 2012, 'Balkan Tale' [Goethe-Institut Athens] Athens Greece & Europe 2012-2013, 'The Listening City' Essen, Dresden, Athens [Goethe-Institut Athens] 2013.
Some more travelling projects are to be launched in Portugal, Greece, Spain, Poland, the Netherlands, Belgium, Germany, Romania, Brazil and France. The exhibitions contain a number of activities: lectures, interventions, workshops…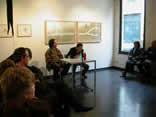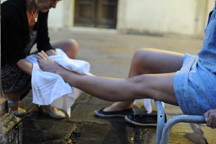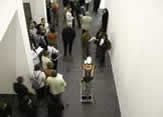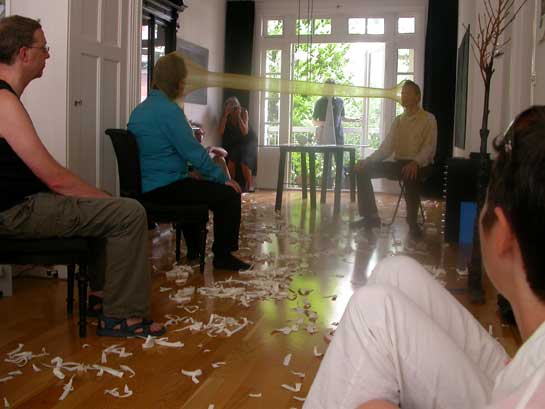 [ The Politics of the Heart ] a multidisciplinary field of community
One of the aims of the Milena principle is to create a forum for cross-border working around the essence of politics as a poetic, creative, human instrument. 'Nomads of a new era ', moving in a field of art, ecology, philosophy and politics, fed by utopian ideas. Terms as "solidarity" or "togetherness" are considered as an inexhaustible source of inspiration. The aim is to organize seminars with participants from different tendencies in a common project.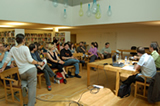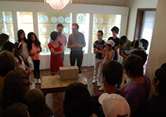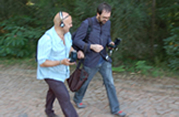 [ Shaping Silence ]
We see sound as a source of knowledge about society. Silence is sound too. We approach sound in an artistic way. We only use open source software. We are creating audio tours that allow for a spontaneous an intuitive way to explore the city. We are inspired by the Sitiationists and their pshychogeography. We allow people to make their own audio tours in an android app. It allows you to edit and add sound to a place. You can save your sound walk, load it to you smartphone. And once you are there, you can listen to it. You can display your audio material everywhere, with GPS.
Instead of a fixed guided audiotour, it is a matter of discovery. Space is filled up with memories of the people that live in the spaces. Now you can dicover the city in an emotional way. We actually create a collective memory of the city. They are half fiction half documentary audio walks. We invite people to be surprised about the things that are normally unnoticed and discover personal stories.