Growing Silence

⋈ silence as an instrument of experience

.

A project to promote the qualities of silence and space in an urban context. Our project is about the experience and importance of urban silence and the connection between space and silence.

Not the physical definition of silence, or the acoustical definition counts. Through a phenomenological approach to silence the artists explore how sound unambiguously works on the human being (in this case in an urban context). Silence is an instrument of experience and as well as an instrument of knowledge.

The project wants to realize a cultural bridge between the presence of silence as access to historical and natural soundscapes and the inner experience of silence. Silence is not limited to a material-accoustical aspect, silence is as well a part of city life as an inner space, a breating space.

This project tries to involve young people in the making of and creating of (urban) silence. We invite students and young artists into the design process and try to engage them in the future development of their environment and to excite them about the city. Approaching silence will explore silence in the city, looking for design tools for the shaping of places and urban experiences.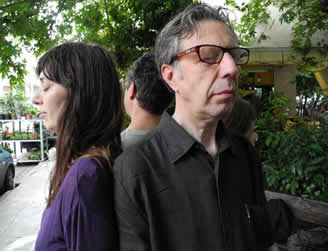 Some members of the Milena principle already are working for years with the theme of "silence". In 1993 visual artist Stefaan van Biesen realised a silence project in an urban context in his homeland: "Deafening, Silence". the MIlena priciple is making a connection with silence artist: they are a source of inspiration. Like for example: Joseph Beuys, James Lee Byars, or the Spanish artist Tres Silencio, [ one of the European living icons of silence and art ].


Ervery human being an artist ⋈ a track of memories that connects us.
In this memory track we refer to 'the birth of the tragedy', Friedrich Nietzsche's first publication, in which he focuses his field of vision on the Pre-Socratic period, the period during which one departs from a moving, changing world. Heracleitos states that as a human being one finds oneself in a constantly streaming river. With 'the birth of the tragedy' Nietzsche starts a return to this original time of movement and change. With this, a second renaissance of a philosophic culture starts, which had been regarded as primitive for hundreds of years.
We see the German artist Joseph Beuys [ 1921- 1986 ], as a central figure in this second renaissance. In the early bud of this new renaissance one finds a figure like Caspar David Friedrich, who already points to this change, as a forerunner. The landscape becomes autonomous, a world on itself without using any religious symbolism or connotation. It shows an inner world. It is the visualized experience of the tragic human being, the experience of a lack.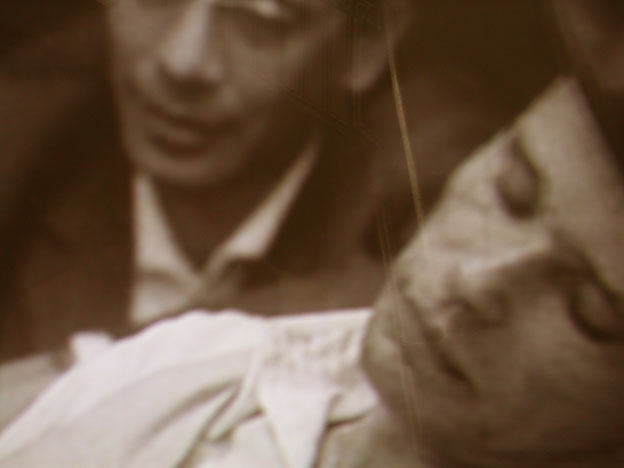 Throughout history one finds figures, who find themselves time and again within this range of ideas or world view. This continuation of an unmistakable tradition within the art philosophical way of thinking keeps on growing further. It is anything but maintaining an existing world view, rather an actualization of the discovery of the human and creative process. This is in the finding of oneself and the passing on of this finding oneself, not passing on content but experience, a process. Just like Joseph Beuys passed on the torch.


The Listening water
⋈ Tea rituals - culture lab.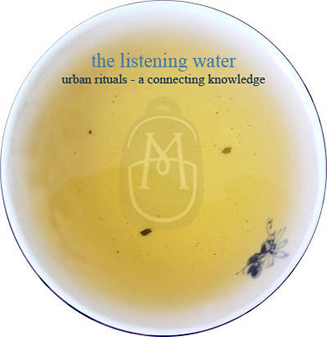 Tea rituals as a philosophical meeting place, a resonating field of poetry and togetherness. Again: 'the politics of the Heart'...


Tempus Fugit-Hourglass [ 24 hour exhibition ]
Traveling art projects on location.
The concept of a 24 hour art project is an interesting premise. The temporary nature and intensity of such events do not work as a mirror of the contemporary informative transience. But by creating a field of timelessness within a measured time in which concepts like 'silence', 'slowness', 'the body as unit measure' among others get a place. This concept of an exhibition as an event, a process in a short time span, integrates both showing the works of art and having performances take place, which are inspired by the place or the happening itself. The visitors are invited to participate in the event. They complete the exhibition by their presence. The audience is becoming the work of art.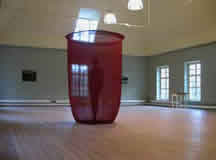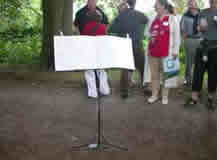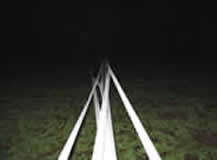 'About melancholy'  The Campagne Drongen Belgium 2004.


An exhibition as a lab [ Amsterdam 2006 ⋈ a living room ]
At the end of July 2006 the Milena principle was invited to be the guest of the German artist Niki Fröhling in Amsterdam. This 'Tafel der Ontmoetingen' (= Table of Meetings) was the provisional first tailpiece of their collective 'Gepäckträger' (= Luggage carrier) Project (how long is now) that started in Berlin in the beginning of July 2006. The artists of the Milena saw each other again for the first time in Amsterdam after their wanderings in Europe. A 24 hour exhibition was realized starting from interaction and dialogue, taking advantage of place and time. The theme was 'Bewoner van steden' (= Resident of cities). Again this exhibition was realized as a laboratory. In this exhibition new works of art were realised with minimal means in situ, forming part of an easily transportable and light travelling exhibition. The day before Geert Vermeire had described drawings of Stefaan van Biesen, which they had made during their stay in Berlin. Printed photo material of the 'Watercurtain-performance' in the Bellevuepark and the 'Grunewald Variations' in the Grunewald in Berlin were described and provided with notes and then hung on the walls of the rooms.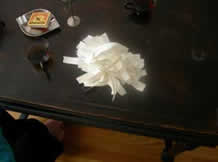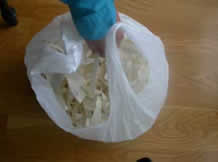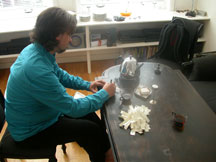 The Table of Meetings [ a room as a meeting place ].
The lectures are usually held in private homes. The idea of a room as a meeting place enables the friendly sharing of experiences and ideas, elaboration of new travelling projects, finding others in a common, artistic and social manner. This visionary character of art is the underlying basis of the Milena. During these meetings small multidisciplinary exhibitions are also held. These expeditions have a high 'laboratory value' and the performances, installations, drawings, poetry and discussions take place in an organic way. It is this continuous experimenting with different possibilities that leads to a specific place.
On Sunday morning 23rd July Niki Fröhling opened her house for the invitees. Hundreds of strips of paper from the pages of a book were scattered on the parquet floor. Everybody walked on these words. A few hours earlier Geert Vermeire had written one word on several of these strips of paper. These were lying on a table, around which the guests could sit, talk and eat together. The art and the house merged, the centre of the exhibition was a big table in the living room, where the artists and visitors exchanged ideas. The sensual elements and enjoyment was reflected in a feast, that was shared with the visitors coming and leaving the table of meetings.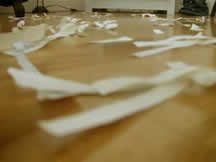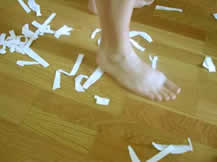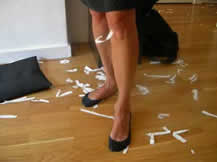 Geert Vermeire and Stefaan van Biesen staged a (sitting) performance 'Unisound'. Their silence imposed silence upon the people present. After this long silence the first word was spoken, they then conversed with each other by means of short poetic sentences. They gave literary improvisations, illustrating expressive landscapes and provided a dreamy reflection on their visit to this city and past 'Gepäckträger' (= Luggage carrier) experiences. This was something that was very much appreciated. A number of fragments from the letter cycle 'Bewoner van steden' (= Resident of cities) was read by Stefaan van Biesen and Geert Vermeire. One of these letters had been written on the spot by Geert Vermeire the day before this occasion.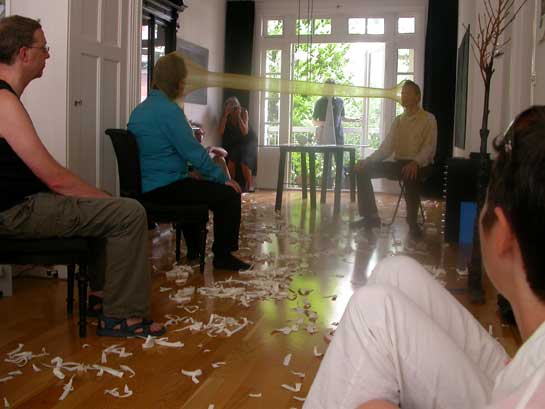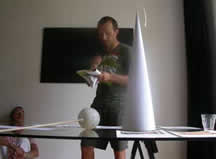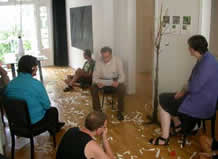 performance 'Unisound' Geert Vermeire + Stefaan van Biesen.
Filip Van de Velde gave an explanation of his E=Mc² performance as well as a lecture on phenomena with the cloister of Le Corbusier in Evreux in France as the central idea.

Rooftop Farming
⋈ greening the cities.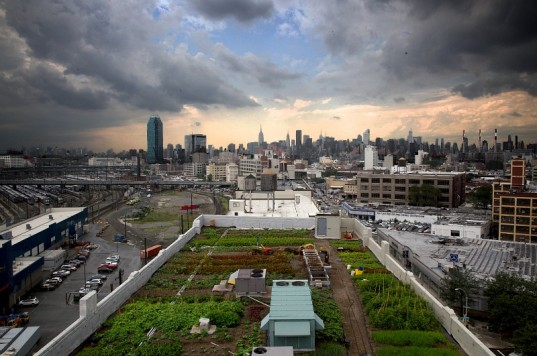 Brooklyn Grange is the product of Wisconsin native and Head Farmer Ben Flanner, who in 2009 started the Eagle Street Rooftop Farm, the first rooftop soil farm in NYC. Flanner's interest and passion for farm-to-table food led to a farming team with roots in the restaurant business. The owners of Roberta's in Bushwick, Chris Parachini and Brandon Roy, as well as restaurant veteran Anastasia Plakias, sustainable food advocate Gwen Schantz, and the team's first apprentice Rob Lateiner, in addition to dozens of volunteers, all contribute to the farm's growing success. The team partnered with Bromley Caldari, a NYC architect firm dedicated to problem solving, and Acumen Capital Partners, a private company dedicated to the reuse and sustainable renovation of commercial spaces in New York City. Acumen has leased the warehouse rooftop to Brooklyn Grange for 10 years. Brooklyn Grange's organic produce is grown in 7.5" deep beds with Rooflite soil. Produced by Pennsylvania soil company Skyland, Rooflite is a lightweight soil composed of organic matter compost and small porous stones which break down to add trace minerals that are needed for the produce to grow into a healthy and mature state. The use of organic soil means that everything produced by Brooklyn Grange is sustainable and good for you. The farm had a nine-month growing season last year, and during the winter, they used cover-crops such as rye, buckwheat, vetch, and clove, resulting in a year-round production of organic goodness right in the heart of NYC!
Ben Flanner and his team are community oriented which has helped the young for-profit business succeed. The farmers at Brooklyn Grange hope to reconnect the city to its farms and farmers by improving city citizens' access to good, healthy food. Ultimately, the team's goal is to show that urban farming is a viable enterprise and livelihood that contributes to a sustainable economy and the health of the city. The produce is available for everyday New Yorkers as well as businesses, which in addition to Roberta's include Vesta in Astoria, Marlow & Sons in Williamsburg and many others throughout the city. Brooklyn Grange is looking forward to expanding to many more roofs to help increase the education and training available to those interested in urban farming.
To get involved with the farm, visit Brooklyn Grange's website. Read more: Brooklyn Grange is the World's Largest Rooftop Farm! | Inhabitat New York City