Agenda
2O19 > >

E X H I B I T I O N S :
[The Walking Body] Exhibition Gallery of the Minho University Guimaraes Portugal december 2018 > january 2019.
[Walking Bodies] Made of Walking (V) Byzantine Collection Of Agios Germanos ⋈ Prespes Greece 2019.

M A D E . O F . W A L K I N G [ V & VI ]:
[International meeting walking artists] Prespes, University of West Macedonia Greece 01.07 > 07.07.2019.
[International meeting walking artists] Sound and Ecology - Amazone Forest 08.09 > 14.09.2019.
[International meeting walking artists] Sound Walk Sunday British Library / Knowledge Center 01.09 > 30.09.2019.

A R T . P R O J E C T S :
[Fingers Don't Know What The Hand Will Do] joint project with Annelies Slabbynck CAS Ostend Belgium 2019.

A R T . F E S T V A L S :
[Analogio Festival] Director: Sissy Papathanassiou. Athens Greece 2019.

V I D E O : I N T E R V I E W :
[Bon Fim Talk] video conversation projects Rosário Forjaz & Stefaan van Biesen Porto Portugal 19.01.2019.

M E E T I N G S :
[Table Of Meetings] the Milena principle meeting Ostend Belgium 10.02.2019.

See more about the projects in 2019:

LISTEN Festival, a summer of sound art, Frome (UK) Sound Walk Sunday, September 1st, 2019.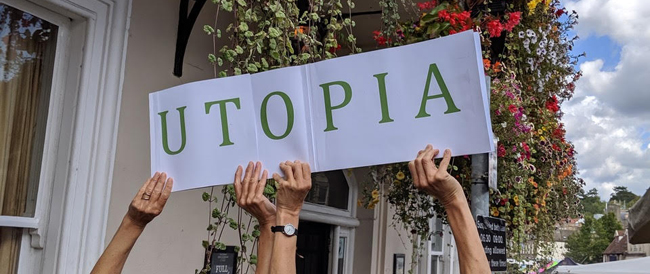 LISTEN: Utopia, a drift for dancers and silent walkers
A silent walking and movement performance directed by Geert Vermeire conceived on the "Utopia" book by Stefaan van Biesen. Dancers: Soo Wright, Karen Burnett and Jackie Adkins
Dancers move around – in silence- through the city, with no other intention then to get lost, with a book, inspired by Thomas More's Utopia, but containing in this version only one word and in a format that challenges the very idea of a book.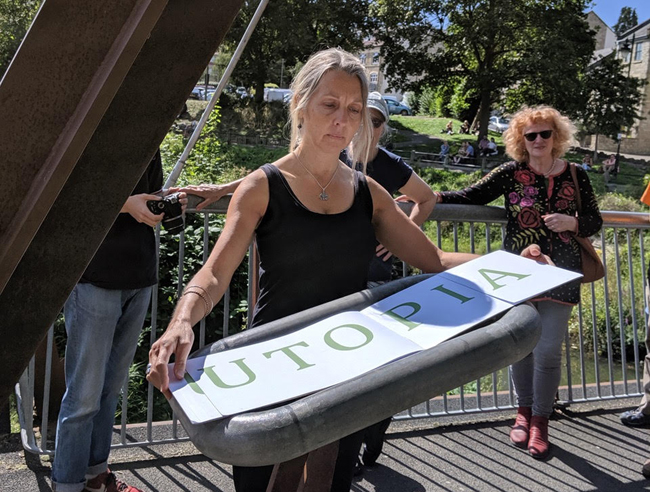 It is a book that resembles a walk – a movement, it is not linear, it opens from different angles, it has pages folded in pages, you can open and browse through it in different directions, actually it is not a book to be read, it is a book to be shared spontaneously between the silent dancers/walkers, carried around and to be opened on places that come towards the performers/walkers, symbolically opening the places, inviting to read the place, the walker and the moment in which they stand. The public is invited to join in with the dancers.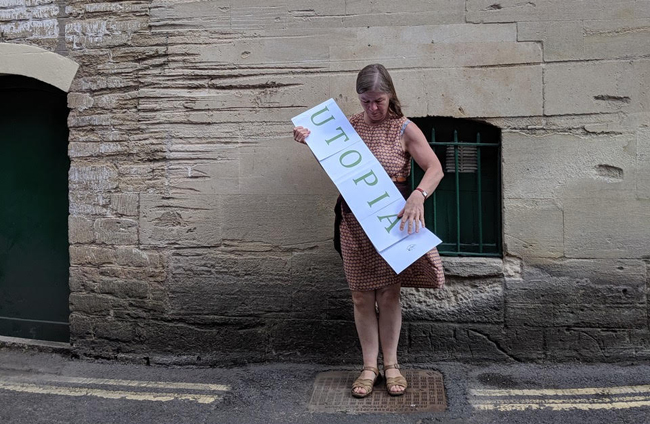 Photos by Mel Day.

Made of Walking (VI) Sound Walk Sunday 2019.
Exploring Sound Walks - British Library / Knowledge Center -01.09 > 30.09.2019.

In the frame of Sound Walk Sunday 2019 in a partnership with Made of Walking (VI) Sao Paulo - London - Melbourne, an afternoon of presentations, videos and demonstrations of new approaches in sound walking at the British Library London. Following contributors were invited to share their ideas and practices, elaborating on contemporary evolutions and the future of sound walking : Joshua Kopeček, Marcin Barski, Babak Fakhamzadeh, Andrew Stuck, Stella Wisdom, Cheryl Tipp, Mahendra Mahey, NG Bristow, Alistair Horne, George Fort, Fred Adam and Vermeire Geert For this event a Sound Walk was created with CGeomap, in collaboration with NuSom - University of Sao Paulo.
With soundscapes by Fabi Quintana, Henrique Souza Lima, Yonara Dantas, Migue Antar. If you are around, all welcome!!
Launch of the provisional program / media pack of Sound Walk Sunday simultaneously in Sao Paulo at NuSom - Research Center on Sonology - University of São Paulo, co-produced by Vermeire Geert and Babak Fakhamzadeh in Sao Paulo and in London by the Museum of Walking - Andrew Stuck.
Sunday September 1, 2019 is Sound Walk Sunday, the start of a month-long global festival of sound walking events and performances, celebrating outdoor audio, geo-located, immersive performances, listening walks and sound walks. Attend an event We've got dozens of events in many countries, covering all inhabited continents of the world. Check out the list of events here
Experience a walking piece
Visit the Directory of Walking pieces to discover sound walks to listen to or follow1.
Vote for this year's best piece
With over 50 eligible pieces for the public choice award, cast a vote for your favourite walking piece, released this year. Voting is open through September.
Media enquiries
A Sound Walk Sunday 2019 Media Resource is now available You can also read the FAQ. We are also on Facebook and Twitter.
Submit a walking piece
To submit a walking piece to our directory, use this form. If we can, we might still include you this year. Otherwise, you will be the first for our next instalment. Either way, your submission will be available for the the public to access at any time.
Walking in step with
We would like to acknowledge the support of:
Department of Fine and Applied Arts, University of Western Macedonia (Florina and Lesbos, Greece). Organiser of Walking Arts Encounters-Conference Prespes 2019.
We are indebted to Museum co-creator, Babak Fakhamzadeh for his help in building the new directory and walking piece submission form, and NG Bristow at Goldsmiths, University of London
We would like to acknowledge support in kind from Grant Waters at Anderson Acoustics. Grant is a team member of the Tranquil City project – check out there map of London's calmer spaces. We would like to acknowledge support in kind from La Milena principle and all those from Made of Walking follow their activities on their Facebook page.
Nusom – the Research Centre for Sonology, at the University of Sao Paulo, Brasil.
hearing places – an Australian online umbrella for creative projects which unite sound and place.
Fred Adam of CGeoMap and the GPS Museum.
Placecloud – a geo-located place story platform based in the UK Echoes sound trail platform
IPD an acoustic development collaborative based in Poland
LISTEN – a summer of sound Festival in Frome, UK.

Made of Walking (V) Walking Practices/Walking Art/Walking Bodies 2019.
Walking encounters/conference in Prespes Greece, July 1-7 2019. 30.06 > 07.07.2019.
Walking Practices/Walking Art/Walking Bodies.Walking Arts Encounters Conference Prespes Greece.
Department of Fine and Applied Arts of the University of Western Macedonia
and Made of Walking (V) / theMilena Principle.

Made of Walking (V) will be hosted by the Department of Fine and Applied Arts of the University of Western Macedonia in Greece and takes place as a joint event with the International Encounters/Conference "WALKING PRACTICES/WALKING ART/WALKING BODIES". The International Encounters/Conference will be held in the Prespes area of Greece, an unique natural environment with two lakes (Megali Prespa and Mikri Prespa) and a perturbing history of war and displacement for almost 50 years the 20th century, it is still a place of passage today and divided by borders with Albania and FYROM (Macedonia).
The theme of "Walking bodies" refers explicitly to walking together and to groups on the move, embodiment, the nomadic process, migration, the concept of home.
Artists and walking creatives are invited to participate to a residency of a week (arrival in the village of Parades, to create an in individual project open for participation or group project involving walking exploration of the Prespes area. An exhibition with the ongoing results of these walking explorations will be realised in the new Byzantine Museum of Agios Germanos in Prespes, and will travel afterwards as a nomadic exhibition worldwide. The residency will be concluded with a three day international conference (5-7 July) in the nearby village of Lemos about walking bodies and walking arts today in general.
The encounters and exhibition are coordinated/curated by Geert Vermeire and Yannis Ziogas, rector of the Department of Arts of the University of Western Macedonia. The event will take shape in collaboration with a global scientific/artistic committee. Artists and all walking creatives are invited to apply for the residency and/or to present their work at the conference.

Arrival for the residency June 28th to Sunday June 30th till July 7th. Arrival for the conference latest afternoon July 4th. Also attendees are welcome to participate.
Registration is open from now on. Online info group sessions about the region will be organised monthly for artists/creatives desiring to prepare a specific walking project for the area.
For students limited free accomodation is available in the dormitory of the School of Fine Arts. Free camping facilities wiil be offered in the garden of the school and at the shore of the lake. Further accommodation (to be paid by the participants) available in guest rooms and hotels for prices starting at 25 euros/individual room/night. Flights to Thessaloniki and Athens, further transportation by bus/train.
More information and/or your expression of interest via personal message: themilenaprinciple@gmail.com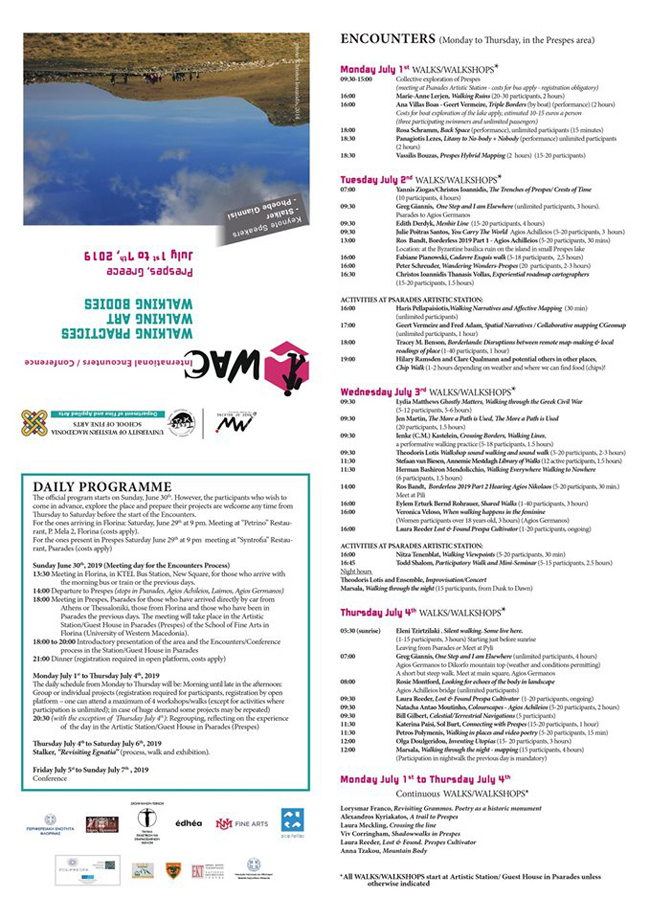 Made of Walking (VI) Sound and Ecology. Amazone Forest 2019.
Made of Walking (VI) Sound and Ecology calls on all interested to participate to a gathering and creative exchange in the Amazon Rainforest, between 8-14 September 2019.

Made of Walking (VI) focuses on sound and ecology, in a collaboration with Sound Walk Sunday (1-8 September), as a global community event celebrating sound walking around the world through simultaneous and connected sound walks on a global scale
Made of Walking (VI) Sound and Ecology extends furthermore from 8-14 September as a global symposium of sustainable arts, science and design, under the name eAmazonia, as an immersive residency in the Amazon rainforest, which aims to be a gathering, school, platform and a collaborative creation space, combining immersion in the Amazon Rainforest and a global digital project, for artists, creatives, researchers, entrepreneurs and all interested in collaborative practices, and dedicated to sustainable arts, eco-arts, science and innovative design in an ecological context of deep Amazon rainforest.
Participants will have the opportunity to present and share their artistic and scientific research - to collaborate and to create art projects or workshops in the Amazon, related to the topics above and sound walking.
Key note activities and workshops by the mentors Flavia Amadeu, Tania Fraga and Geert Vermeire will shape the framework and a collaborative process over the 6 day residency/symposium. The participants are invited to share their knowledge and practices, and to create works in progress.
The outcomes will lead to a nomadic exhibition in significant art spaces in São Paulo, London and Miami, accompanied by an academic and artistic publication/catalogue.
The symposium is academically supported and accredited by IMATech-Institute for Arts, Technology and Mathematics in Sao Paulo, Brazil.
The discussions will help framing the eAmazonia network and a series of future encounters and experiences. This gathering will also compose the base of a global online and digital platform in progress. As the gathering in the Amazon rainforest will take shape as an expedition it requires considerable costs to be secured by the artists themselves or by funding in their own countries/institutions.
The gathering is an initiative by and curated by the artists Tania Fraga, Flavia Amadeu and Vermeire Geert. As a core group, the three artists propose working on environmental issues with a global and independent media orientation.
It belongs to their ambition as artists to foster alternative images and discourses, advance ecological economies and humane policies, going against the mainstream corporate goals, in the awareness that the future of our world is carried by a humanity embracing and creating different paths then the ones imposed by global media enterprises and large corporations.
By bringing together their artistic practices and approaches the three artists organize this collaborative creative gathering to share their creative practices, their concerns and their solutions with other artists, creatives, researchers and all others interested in the Amazon Rainforest.

[Fingers Don't Know What The Hand Will Do] CAS [Contemporary Art Space] Ostend Belgium 2019.
joint project with artist Annelies Slabbynck and Stefaan van Biesen. Opening: 08.06.2019.

During the years in the work of Annelies Slabbynck, Stefaan van Biesen & Geert Vermeire. 'Hands' have always played an important role. This is what binds them philosophically and artistically. They also share a nomadic vision in which their work travels through the world. This conclusion was the start of a joint project where new works are created and maybe earlier works are being redefined. Work that originated through various perspectives such as work used during or for performances, video and exhibitions. The whole project is a joint process where interaction can arise on each other's work or an artistic response to a specific work of both.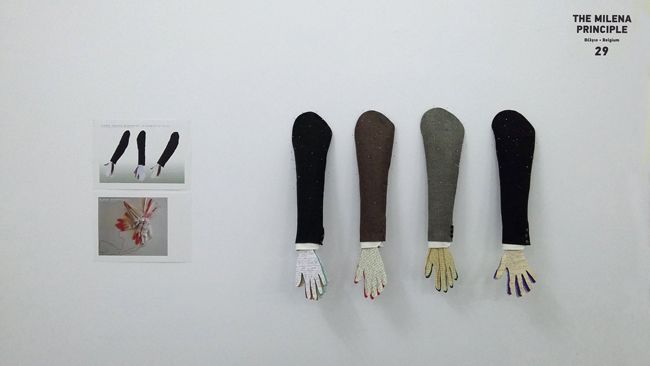 CAS aspires to generate significant audiences for its innovative and diverse programmes through free access and a dynamic profile. CAS is dedicated to confronting local high standard artists' work with high end national and international artists. CAS delivers between eight or ten exciting exhibitions and off-site projects each year, believing that access to, enforcement of and engagement with contemporary art can inspire and enrich our lives, our communities and our world.

[The Walking Body] Exhibition Gallery of the Minho University Guimaraes Portugal december 2018>january 2019.

Art works + digital prints by Stefaan van Biesen & Annemie Mestdagh with results of the workshop-encounters the walking body at the School of Arts + Architecture in the University of Minho, Guimaraes - Portugal.
the Walking Body, is an art project framed, in our perspective, by the conceptual movement of promenadology (Spaziergangwissenschaft) which was conceived in the eighties by Lucius Burckhardt in Kassel. The German thinker saw the body as a valid scientific tool capable to improve the urban life in society. Giving continuity to this scientific assumption, we add, in our approach, an aesthetic transgression of the Walking Body which punctuates a new poetic distribution of the human experience of vagrancy. In an osmotic way, the phenomenology of the body redefines the social space as an emotional transparency, beyond the invisibility of the urban protagonists trapped in the accelerated transit of the technological motion. the Walking Body is an euphonic territorial conquest of the natural and the urban, the landscape and the city, through kinetics and perception, by redesigning the idiosyncrasy of a walker with the place.
Drifting and vagrant bodies define a nomadic way of the human communication by exposing us in a porous emotion of the being. The limits of the habitat of the Walking Body will be configured by the amplitude of the affective event and not by architectural gestures of a rigid and permanent rational construction.
Text/research by Simona Vermeire Art works by Stefaan van Biesen Workshops and walks by Stefaan van Biesen, Annemie Mestdagh and Vermeire Geert the walking body in Guimaraes - coordinated by Miguel Bandeira Duarte curated by Vermeire Geert
The project is hosted by Lab2PT and EAUM Licenciatura em Artes Visuais (School of Architecture - Visual Arts) of the University of Minho and in partnership with the art collective The Space Transcribers and the Museum Nogueira da Silva Braga - Portugal

Exhibition about The Walking Body with the students of the Minho Universtity Guimaraes Portugal [The Art Department]. An exhibition as a proces, a lab.

[Analogio Festival] Athens Greece 2019 . Director: Sissy Papathanassiou. Curated by Geert Vermeire.
Personal or remote participation
Artists can propose a participation on location, but are also encouraged to contribute remotely. The proposed performative action / installation is meant to be performed remotely by others (performers, public, or mixed) in Athens. We expect to receive a "manual"', a brief or a detailed movement score (step by step instructions for one performer/participant, two performers/participants, ... a group/a crowd). Selected performative works from the open call will be performed by volunteers (performers / dancers / movement artists / and the public). Participants are as well the audience. The performances are meant to be realized collaboratively to fully experience the works. In fact participants and public become part of it. We call as well on artists, creatives, researchers and cultural workers to propose workshops and presentations relating to the theme.
Artistic works, workshops and talks/presentations
Artists and creative professionals of all fields are welcome to apply (performers, dancers, actors, musicians, sound artists, designers, painters, sculptors, new media artists, digital artists, internet artists, software and app developers, video artists, installation and technology artists, architects, social and community artists, writers, etc.). Artistic collectives, groups and artists with disabilities are strongly encouraged to participate. We encourage artists to engage with those less engaged, to empower those who are disempowered. Via this open call, writers, artists and creatives are invited to apply with an idea, preferably (but not obligatory) in a collaboration, within the field of space, text and body, relevant to the theme. Performance, digital arts and new media will be the final form of the works, even though the artistic form of proposals can be wider, focusing on interaction and exchange. We call as well on artists, creatives, researchers and cultural workers to propose workshops (max duration one day) and presentations relating to the theme.

[ Mapping our working space ]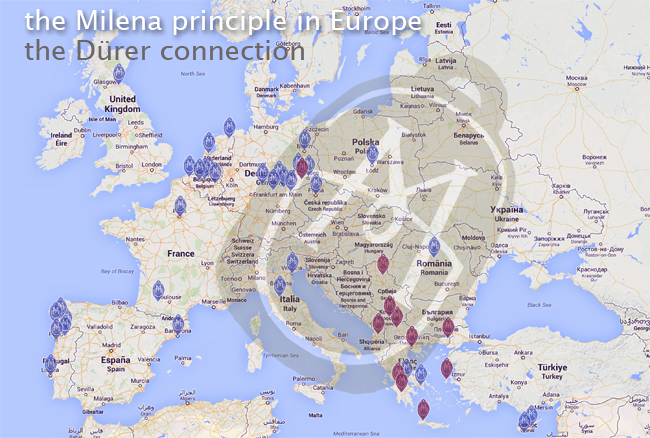 Amsterdam - Antwerp - Athens -Barcelona - Belgrado - Berlin - Beveren - Braga - Brasilia - Bruges - Chania - Chemnitz - Chios - Compostella - Delphi - Dimitsana - Dresden - Edinburgh - Essen - Florence - Ghent - Guimaraes - Jahnishausen - Kassel - La Romieu - Leipzig - Limassol - Lisbon - Lodz - Ljubljana - Naumburg - Neo Chorio - New York - Nicosia - Nieuwolda - Ostend - Paris - Patras - Porto - Prague - Prespes - Prishtina - Santiago de Compostela - Sint-Niklaas - Skopje - Soufi - Thessaloniki - Tinos - Tirana - Tirgu Mures - Tongeren - Venice - Vigo - Weimar